PARIS — Thousands of demonstrators gathered in central Paris and formed a human chain along the route of a long-planned protest march that was banned by the French government in a security crackdown following the Nov. 13 Paris attacks. Nearby, thousands of shoes, some decorated, were placed at the Place de la Republique to symbolize the many feet that could not march because of the ban.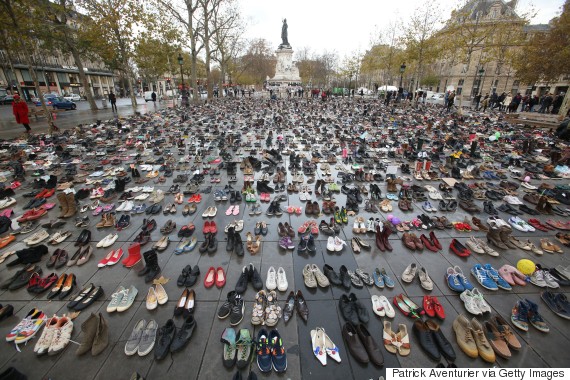 The place de la Republique is covered with shoes as part of symbolic rally organized by the NGO Avaaz during the forbidden COP21 demonstration on Nov. 29, 2015 in Paris, France. (Photo: Patrick Aventurier/Getty Images)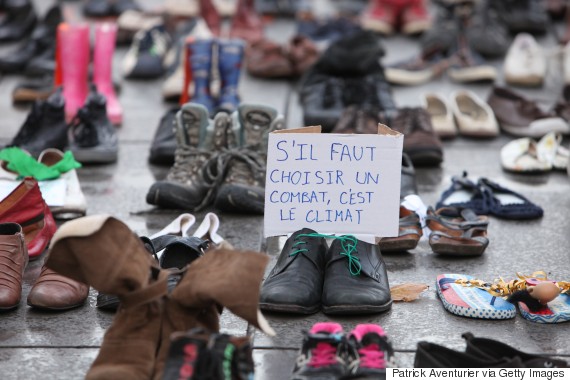 A pair of shoes at the place de la Republique with a sign that says, "If you must choose a fight, let it be the climate" on Nov. 29, 2015 in Paris, France. (Photo: Patrick Aventurier/Getty Images)
Pope Francis also left a pair of shoes on display.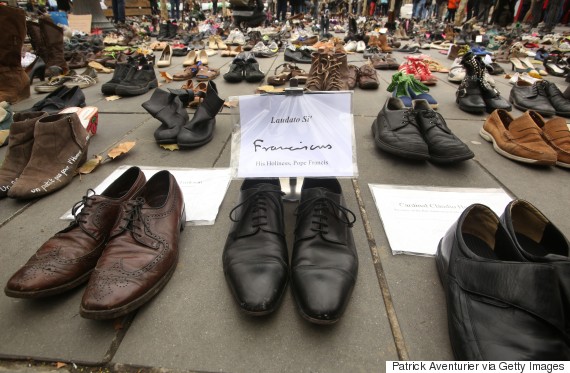 (Photo by Patrick Aventurier/Getty Images)
But violence erupted as the day progressed with several hundred people, some of them masked, throwing objects at riot police blockading the square in a bid to break through, and desecrating a memorial made of flowers and candles for the 130 victims of the attacks.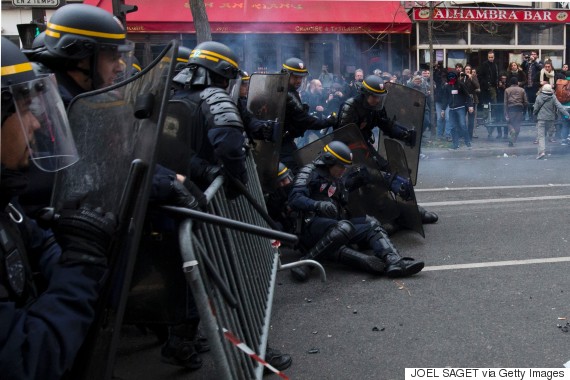 Members of riot police fall down during clashes with protestors following a rally against global warming on November 29, 2015 in Paris, a day ahead of the start of the UN conference on climate change (COP21).
Interior Minister Bernard Cazeneuve said 174 people were jailed for possible charges. He said, separately, that 26 people have been placed under house arrest, stressing they weren't militants but people known for violence in the past.
Some protesters chanted "a state of emergency is a police state.''
Paris police chief Michel Cadot said that a group of 200 or 300 people violated a ban on protests under the country's state of emergency. Cadot said that the group lobbed glass bottles and other projectiles, including candles set out in homage to the victims of the extremist attacks. Shoes laid out at the earlier ceremony also were tossed about. Police fired numerous rounds of tear gas to disperse the group.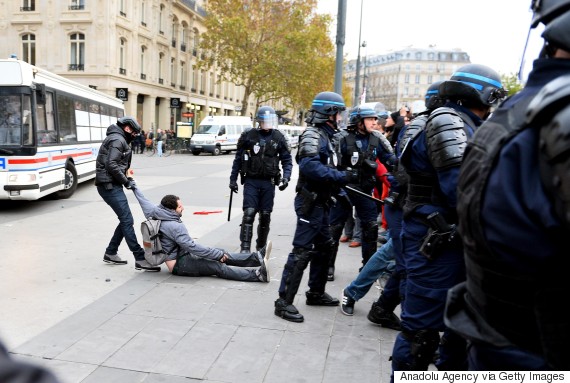 A demonstrator, laying down on the ground, is arrested by the police during the forbidden COP21 demonstration at Republique Square in Paris, France on Nov. 29, 2015. (Photo by Patrick Aventurier/Getty Images)
President Francois Hollande denounced the violence by a minority as "scandalous,'' both because the clashes were caused by "disruptive elements'' that have nothing to do with environmental activists and because they occurred at Place de la Republique, which has been a memorial square for the victims Paris attacks. He said "everything will be done'' to ensure they are not present during the conference.
Prime Minister Manuel Valls also denounced the violence in a tweet, saying that respecting the square, used to pay homage to attack victims, "is to respect the memory of victims.''
It was not immediately clear if those involved in the violence were from a specific group. A known climate pressure group, 350.org, said the protesters were "unaffiliated with the climate movement and broke ''the non-violent pledge that every group involved in the climate coalition" signed off on.
The protests were held ahead of the critical global warming talks outside Paris beginning on Monday.